In-Shape Fit clubs offer outstanding facilities, equipment, and fitness professionals dedicated to get and keep you Fit! Visit any one of our Fit locations and get started on achieving your health goals today! Our dedicated, friendly team will be by your side every step, or rep, of the way.

Cardio Theater – Dozens of cardio machines like treadmills, ellipticals, stationary bikes, and stairmills will help you increase your heart rate, burn calories, and lose weight. All cardio areas feature tons of flat-screen TVs so you can tune in – or out – and let your workout time fly by.

Spacious Locker Rooms – Our locker rooms offer day lockers, showers with shampoo/body wash, and space to relax and get ready for the rest of your life.

Selectorized Equipment – I.S. Fit Clubs offer a variety of weight machines for beginner to advanced strength training, and to isolate certain parts of the body for physical therapy or rehabilitation. Get your strong on!

Free Weights – For those who are looking to increase both strength and muscle definition, lifting weights is key. We offer a full line of free weight equipment, featuring Precor Icariquan with plenty of benches to help you improve muscle strength and muscle tone.

Personal Training – With a personal fitness trainer by your side, there's no limit to achieving your health and fitness goals!

Fitness on Request – Finally, exercise classes that revolve around your schedule! Enjoy a ZUMBA®​, Yoga, cycling class and more, on demand, at the push of a button!

Locations: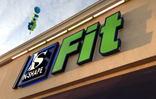 In-Shape Fit: Merced
3360 North State Highway 59
Merced, CA 95348
(209) 725-8375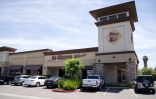 In-Shape Fit: Lathrop
15362 Harlan Road
Lathrop, CA 95330
(209) 373-2441
In-Shape Fit: Mooney
3515 S. Mooney Blvd
Visalia, CA 93277
(559) 622-6100
In-Shape Fit: Oakdale Rd.
1533 Oakdale Road
Modesto, CA 95355
(209) 579-3200

In-Shape Fit: Pelandale
​3900 Pelandale Avenue
Modesto, CA 95356
(209) 552-7590
​
In-Shape Fit: Manteca
1305 W. Yosemite Avenue
Manteca, CA 95337
(209) 249-7003
In-Shape Fit: Ceres
​1342 E. Hatch Road
Ceres, CA 95307
(209) 575-5500
In-Shape Fit: Tracy
2311 N. Tracy Blvd
Tracy, CA 95376
(209) 836-8787
Amenities may vary by location